Natalie W. Bell, MBA, CVA
Concerns over Anesthesia Coverage continue as more reports indicate a widening gap between anesthesia needs and provider availability.  Definitive Healthcare noted that Anesthesiology was ranked 7th in specialties most impacted by staffing shortages having lost 7,459 providers in 2021 alone.  The Association of American Medical Colleges predicts a shortage of 12,500 anesthesiologists by 2033.  
In efforts to maintain coverage and control costs, there has been a shift toward using Care Team Models and CRNAs to fill in the gaps.  As of May 2021, the U.S. Bureau of Labor Statistics estimated 43,950 practicing CRNAs in America and 31,130 physician anesthesiologists.  Although this represents a 4.7% increase in CRNAs and an 8.9% increase in Anesthesiologists, these increases are not enough to close the gap in the current demands.  This is leading many facilities to reconsider their anesthesia coverage. 
The primary coverage models are physicians only, care teams of physicians and CRNAs, and CRNAs only.  Each of these models can be applicable and efficient under the right circumstances.  Below are some basic attributes of each.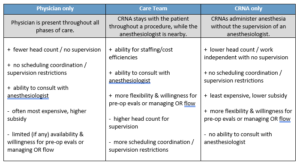 As coverage increases to more sites of service, staffing using a care team model becomes more advantageous.  The table below shows the cost of coverage based on median provider compensation as reported by MGMA's 2022 Survey for each coverage model depending on the number of sites of service.

Although more providers are on-site under the Care Team model, the overall costs under the Care Team model are less than the Physician only model even with only 2 sites of service.  The difference in costs between these models only increases as the number of sites increases.
While costs certainly are a factor, it is important to fully understand the coverage aspects of each model as well.  Under the Anesthesia Care Team model CRNAs can be directed or supervised.  With direction, the anesthesiologist has substantially more direct involvement with the care provided than when supervising.  In either case, the American Society of Anesthesiologists (ASA) notes, "The anesthesiologist may delegate monitoring and some appropriate tasks but retains overall responsibility for the patient."
Supervision can be provided by non-anesthesiologist physicians, but ASA cautions, "Non-anesthesiologist physicians lack the expertise that uniquely qualifies and enables physician anesthesiologists to manage the challenging airway and other complications that could occur…Surgeons and other procedural physicians contribute to patient safety and quality of care by assuming medical responsibility for perioperative care when a physician anesthesiologist is not present."
The use of CRNA only models are increasing as to date, 22 states and Guam have opted out of the federal physician supervision requirements for CRNAs.  Additionally, 41 states do not have a physician supervision requirement for CRNAs in nursing or medical laws or regulations.  When considering state hospital licensing laws or regulations, 25 states still do not require physician supervision or direction.  
Careful consideration is required whenever a non-anesthesiologist physician will be the only physician available, as in some small hospitals, freestanding surgery centers, and offices. These circumstances should be considered when deciding which procedures should be performed in settings without a physician anesthesiologist, and which patients are appropriate candidates."
Regardless of which coverage model is used, it is important to note that numerous studies confirm that anesthesia care is equally safe regardless of whether it is provided by a CRNA working alone, an anesthesiologist working alone, or a CRNA working with an anesthesiologist, most notably in the study titled "No Harm Found When Nurse Anesthetists Work Without Supervision by Physicians" published in 2010 in Health Affairs.
When considering a change to your coverage model, it is important to understand your state's regulations, "opt-out" status, facility licensing laws and rules, internal facility policies as well as reimbursement implications to fully determine the best coverage model for your needs. 
_________________________
1 Definitive Healthcare. Addressing the healthcare staffing shortage. October 2022.
2 Becker's ASC Review.  Weathering the storm in Anesthesiology: making the business case and demonstrating the value of Anesthesiology (beckersasc.com). June 20, 2022. 
3 U.S. Bureau of Labor Statistics. Occupational Employment and Wage Statistics. May 2021.
4 American Society of Anesthesiologists. Statement on the Anesthesia Care Team. October 23, 2019.
5 Merritt Hawkins. CRNAs and the Anesthesia Care Team Model, April 23, 2019
6  American Society of Anesthesiologists. Statement on the Anesthesia Care Team. October 23, 2019.
7 American Society of Anesthesiologists' Statement on the Anesthesia Care Team
8 Health Affairs. No Harm Found When Nurse Anesthetists Work Without Supervision By Physicians. Brian Dulisse and Jerry Cromwell. August 2010